Faculty always ask our Client Success Team for ideas on how TurningPoint can help to improve class participation and attendance. Some instructors are particularly concerned that mobile responding may allow students to simply answer interactive questions from home and just skip class altogether. Luckily, we already have a built-in solution to that problem!
TurningPoint gives faculty the power to decide what students see on their mobile devices. Using the Display response buttons feature, faculty can display the full question and answers or just the answer buttons. Choose the response-buttons-only option to motivate student attendance.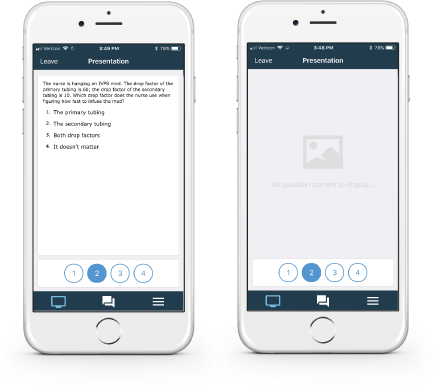 Want to give it a try? Just follow these simple steps:

Click Enable in the upper-right corner of the TurningPoint dashboard.
Click Session Options.
Under Participant Question Display, select Display response buttons only.
Click Save.
Session Log Report
In addition, TurningPoint's Session Log Report makes it easy to review student engagement throughout a session with data on messaging activity and join/leave times.
Many faculty have found these strategies to be useful. Give them a try to see if they work for you, too!