TurningPoint web was built with ease of use in mind. From the user interface to the ability to send results directly to the web, we made a point to streamline your experience while carrying over the most popular features of our desktop solution.
When it comes to reporting, that same philosophy applies. TurningPoint web reports not only gather and export data in an easy-to-use format, but also give you insights into both your learners and the effectiveness of your assessments.
TurningPoint web offers several different types of reports.
Report by Session
This report, similar to a gradebook view, gives you a big-picture overview of the total points, and the percentage of possible points, earned by participants during each session.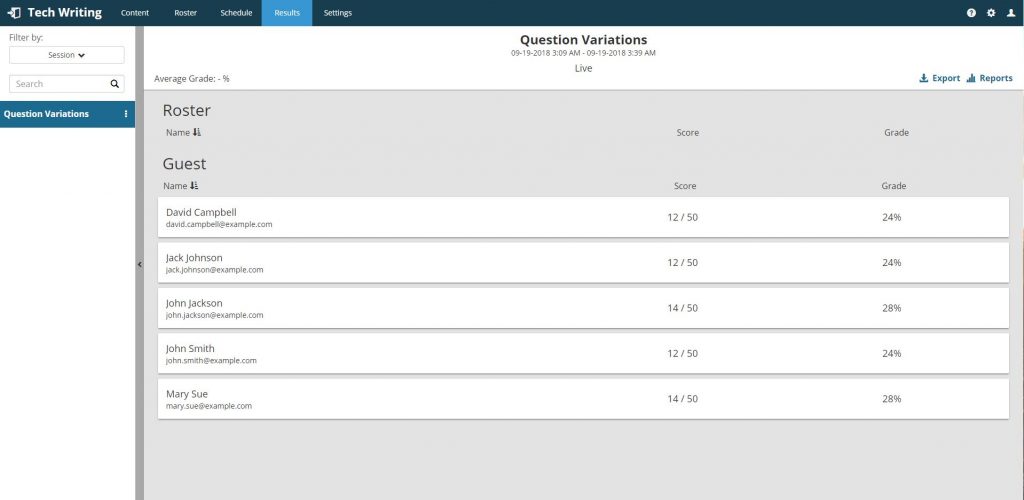 Report by Question
This allows you to dig deeper into how your participants responded as a whole to each individual question. You can evaluate popular responses, class-wide understanding and question effectiveness at a glance.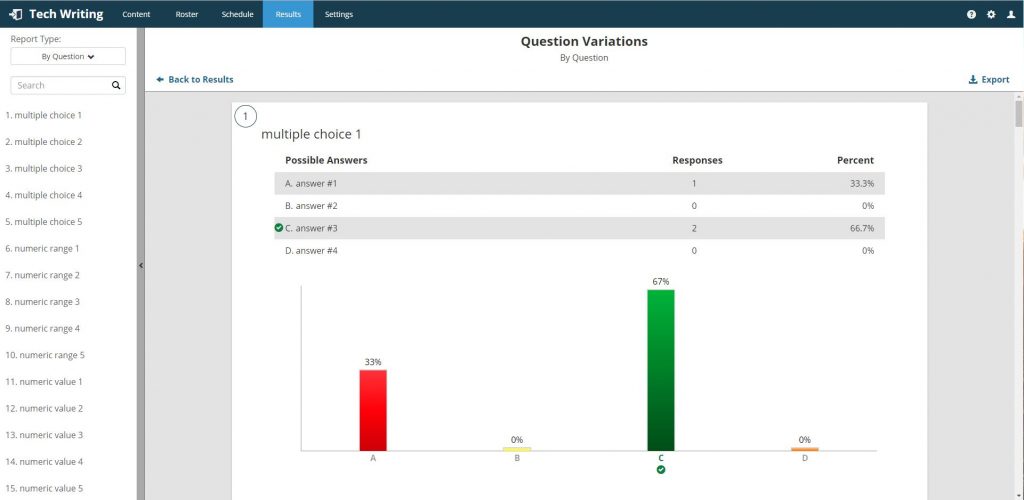 Report by Participant
If you want to dive into the performance of each individual learner, then this is the report for you. It is particularly helpful in identifying which students need additional assistance well before any high-stakes exams or evaluations.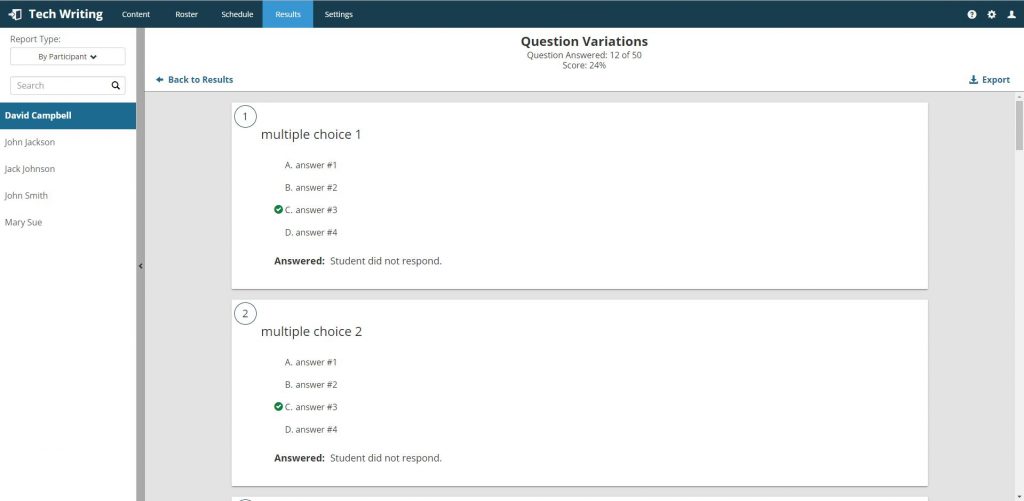 Accessing TurningPoint web reports is easy.
Go to www.turningtechnologies.com and Sign In to your account.
Locate the desired course and click .
The course opens on the Content page.
Click Results on the top navigation.
The Results page opens and loads the first session by default.
These are the Reports by Session.
You can filter the grades by Session or Student and Search by Session from the left panel if needed.
Select a session to generate reports.
Click on the upper right of the page. Reports by Question are displayed.
If applicable, change Report Type from the drop down in the left panel.
Click to view sessions.
Exporting Reports
TurningPoint web allows you to export results as .CSV (Report by Session) or Excel (Report by Question and Report by Participant) files in order to share with colleagues or learners. In the Report by Participant, TurningPoint even includes a page break between each participant, making them convenient to distribute if you want students to use them as study guides.
Visit our TurningPoint web help guide for detailed instructions on how to export your Reports by Session, Question and Participant.
If you have any questions about running and exporting reports in TurningPoint web, contact our Client Success Leaders at csl@turningtechnologies.com.